TWINWALL SHEET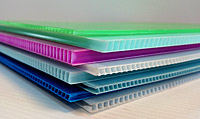 Celular boards are used in the automotive industry, for the transport of car parts, food industry (pallet spacers). Packaging systems allow you to use a box of hollow boards directly to the assembly lines. Boxes are characterized by high strength, water resistance and the possibility of stacking storey thanks to the special design strips surrounding.
Boxes can also be made with anti-static board, scattering stray currents which can safely transport the electronic components (computers) to the car assembly. Twinwall sheet are also used, trusses, and as packaging in the trade or bulk containers, eg. For tools. The following pictures illustrate the possibilities of using hollow plates.
Stabilization on UV in the Polish climate zone, and direct exposure to ambient conditions for about 8 months.
On our celular boars can be done processing corona tretment the surface for printing. We can also be stamped on the plate in black on a continuous basis. Font height 15mm./p>
IIt is possible to manufacture slabs of antistatic characteristics, as well as the transport plate coductiviti electronics. Standard resistance parameter 10-8.
Parameters board:
Weight plates at 1m/2
2 mm 300-500g/m2
2,5mm 450-600g/m2
3,0mm 500-900g/m2
3,5mm 500-1100g/m2
4,0mm 500-1200g/m2
4,5mm 600-1300g/m2
5,0mm 600-1400g/m2
6,0mm 700-1500g/m2

Tolerances::
length of 300 to 8000mm and rolled for 50 +/- 1% of 000mm
width: 200 to 1430mm +/- 2mm
thickness of 2-6mm +/- 0.1 mm,
eeight tolerance of +/- 8%
COMPANY DATA

Ul. Jagiellońska 85/87
42-200 Częstochowa
tel/fax. (34) 371 09 35
tel. 664-184-662
tel. 601-293-007
tel. 501-633-545
e-mail: biuro@plastkarton.pl